Turn-key Pet Food Rendering Solution
Bachelor Controls' work with The Williams-Carver Company is a unique situation, where they are three levels removed from actually working with the end-user plant. This level of project complexity requires excellent communication and exceptional domain expertise to execute well. Williams-Carver offers this BCI-provided solution to a food and beverage processing company's end-users as a turn-key solution. The end-user plants process by-product from the pork industry to be sold as fresh pet food.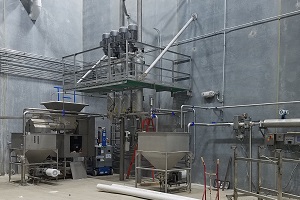 Williams-Carver, a sanitary stainless and refrigeration distributor, was hired by a world-renowned food and beverage processing company to provide a turn-key automated system for processing the meat which was formerly a 100% manual process. Williams-Carver developed the process system as well as supplied the majority of the hardware for the system itself and Bachelor Controls was brought in to design and implement the controls to automate the process. In addition to the efficiencies gained through automation, another critical feature was upgrading the historian and reporting functions of the system, which was formerly a either a hand-written clipboard or a manual chart recorder that logged the temperature to a circular chart.
Bachelor Controls is very knowledgeable in what they do, they are easy to work with, and they care about their end product.