Why It's Time To Consider Preweigh Automation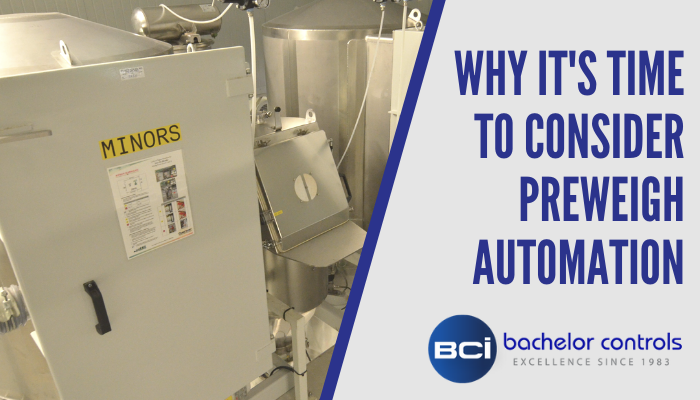 Traditionally, the mantra in batch automation is that you automate the 20% of ingredients that you use 80% of the time. Often, in food applications, this is the flour, sugar, etc. However, with new advances in automation technology and with new pressures being put on companies, it might be time to reconsider how the other 80% of ingredients are weighed.
Accuracy Has Improved
With older 4-inch screw feeders, you can't expect to get the accuracy you need for minors and micros. Our mechanical partner, AZO, has newer machines that can now get weighments within 1-2 gram accuracy.
For other types of weighments, load cell technology has also improved. On a recent pharmaceutical application with a 1500 KG platform scale, 1-2 kgs of variation was certified for sale. However, this digitized load cell was able to maintain accuracy within 20 grams for the control system to act on.
This level of accuracy dramatically changes the types of ingredients that can be reasonably automated without losing consistency or quality.
Save Your Workforce
One recent customer was hand adding 7.5 million pounds of ingredients each year. That meant manually measuring them and then manually adding them – so their employees were lifting those ingredients twice. That is 15 million pounds of lifting every year! By automating those weighments, the customer saved their employees' backs.
Another recent customer moved to full ingredient automation, which allowed them to run a 24/7 bakery without asking staff to work overnight. The first shift refilled all the use bins. The second shift topped off the bins. And they ran a "lights out" shift for the third shift. Their bulks, minors, micros and liquids were all fully automated.
With many companies seeing an aging workforce and with difficulty filling open positions, increased automation will become a necessity for many facilities. It is best to start this process now before your production is hampered by sudden attrition.
Improved Batch Genealogy and Consistency
Aside from wanting to produce the highest quality product possible, many companies are feeling the pressure to automate and digitize their practices because of the FDA Food Safety Modernization Act (FSMA). By moving away from clipboards and into a process that is digitized and automatically recorded, you can better control a possible recall and provide reports that are more reliable.
If you are interested in finding out if Preweigh Automation could be a fit for your facility, Contact Us.
---