Batching Process –
Vitamin Production
A major pharmaceutical company required an ingredient automation system (weighing through mixing) that could manage the recipe flexibility demanded by their full line of vitamins while interfacing in a near-real-time mode to their existing ERP system.
Objectives / Requirements
A Master Recipe concept that allowed a direct transfer of a Shop Floor Order containing the Master Recipe and executing without requiring any intermediate recipe management system:
Weigh from 9 Super Sack stations and
2 Drum Dump stations and
10 IBC stations into a Super Sack traveling scale -Work in Process (WIP) Batch
Transfer WIP bags, Bulk Material from silo and Super Sack traveling scale into Mixer
Weigh final product from Mixer into Super Sacks for deliver to storage or tablet presses.
Provide data management – inventory, shop floor orders, usage data, production information, critical alarms and process parameters for the electronic batch records utilizing SQL Server, Oracle and XML technologies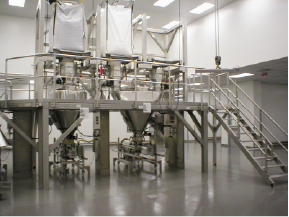 BCI provided a robust, validated ingredient automation system utilizing current control and database technologies. All Wonderware HMI screens utilized a Terminal Services based application for an easy to use/easy to maintain Server/Client architecture communicating with Rockwell Automation's ControlLogix system.
Accurate ingredient delivery
Seamless recipe management
Flexible system
Near-real-time ERP integration
Ingredient automation projects require strategic planning, careful execution, and perfect follow up. With BCI as our partner we are able to realize success in all critical aspects of our projects from concept to completion.

Our jobs are well designed, implemented on-time, and completed within budget. Thanks to BCI we are able to provide our customers with systems to meet the demands of today's business and with the flexibility of the future in mind.