Petfood Batch Process and
Packaging Control

Founded in 1989 by John and Ann Rademakers and Peter Atkins in Santa Clara, California, Natura Pet Products/Natura Manufacturing produces some of the healthiest petfood products in the world. This commitment to quality and health is reflected in Natura's new state-of-the-art manufacturing facility in Fremont, Nebraska. The company uses only top-quality, natural ingredients, avoiding artificial preservatives or additives to maintain the freshness and quality of its products. As a result, it is critical that Natura deliver its high-quality products with consistency. When Natura elected to automate the entire manufacturing plant and distribution center, it put its faith in Bachelor Controls to provide systems integration and Manufacturing Execution System (MES) services for the complex batching and packaging systems components.
Objectives / Requirements
Building a new facility, Natura sought to automate their entire operation from the ground up. BCI was charged with providing:
Flexible batching capabilities to enable optimum utilization of plant equipment
Integration of manufacturing and business systems
Process control and integration of the packaging systems
Tools for monitoring, measuring and reporting process performance and quality, including lot tracking and genealogy
Results / Benefits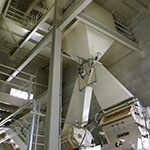 Bachelor Controls' comprehensive understanding of the relationship between the business/enterprise system and the plant floor operations allowed BCI to provide an integrated solution for Natura's entire Natura – scaleprocess. From the receiving ticket that inventories unloading grain trucks to the mechanized packaging and palleting operation that readies product for warehousing and delivery, BCI systems provide near real-time information tracking and exchange. Natura leaders can use these data and reporting tools to make critical inventory and production decisions. The result is a seamless exchange of ingredient history and information from grain truck to grocery store delivery truck.
Testimonial
I am impressed with both the design and the project management skills delivered by Bachelor Controlsto create a highly functional, user-friendly, and extremely performant batching system for Natura Manufacturing. BCI personnel were very proactive in obtaining and developing the details necessary to advance the project, on time and within budget.
Don ScottVice President of Manufacturing
DOWNLOAD FULL CASE STUDY PDF