Bachelor Controls Expands Team with Hire of Two Experienced Engineers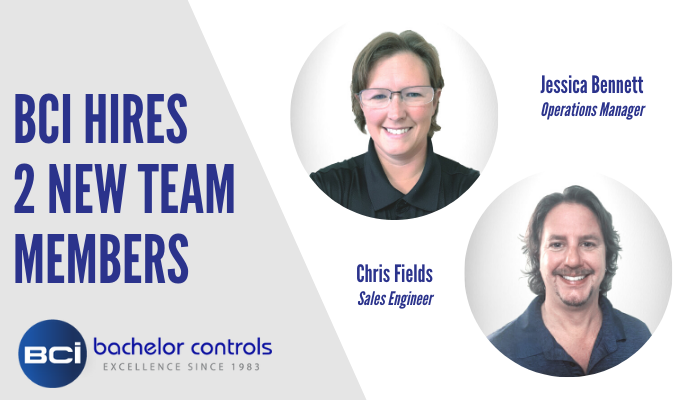 BCI hires Operations Manager Jessica Bennett and Sales Engineer Chris Fields to support an increase in demand for the company's batch control and process automation services.
Sabetha, KS – October 14, 2021 – Bachelor Controls, Inc. (BCI), a leading provider of control systems integration specializing in complex batch solutions, today announced the hire of Jessica Bennett and Chris Fields to support increased sales and project activity for the company's batch, IoT, and process automation solutions in the food and beverage, pharmaceutical, plastics, and specialty chemicals industries.
"With a strong uptick in project requests, we have brought Jessica and Chris onto the BCI team," said Stacey Rodvelt, Vice-President of Bachelor Controls. "These two talented professionals will complement our team's expertise and allow us to better serve our growing base of batch and process automation clients in the US."
With nearly two decades of experience in the automation and control system industry, Jessica Bennett joins BCI as Operations Manager for the Sabetha, Kansas office. Previously, Bennett held the position of Senior Controls Engineering Manager at a major consumer products manufacturer where she supervised a team of more than 20 engineers. A graduate of University of Kentucky, Bennett holds her Bachelor of Science in Electrical Engineering.
Chris Fields joins BCI as Sales Engineer for the Memphis office with nearly 30 years of experience in automation engineering and machine design in the manufacturing industry. Prior to joining BCI, for 22 years Fields owned and operated Fields Engineering & Computer Services, which specialized in project development for automated controls, database design, PLC and HMI programming, and computer systems and networks. Fields holds his Bachelor of Science in Electrical Engineering from Purdue University.
About Bachelor Controls
Bachelor Controls (BCI) is a leading provider of control systems integration solutions, and is a premier batch solutions integrator. The company's proprietary batch process workflow management software, BCI CORE™, provides enterprise-wide ability to continually monitor, control and streamline operations to increase efficiency, product quality and throughput. BCI has extensive experience in process automation solutions including cooking extrusion for food and pet food, distillation, modified starches, and more. Founded in 1983, Bachelor Controls has been recognized as a Charter CSIA Certified Member, Charter Rockwell Automation Solution Partner, and Microsoft Certified Partner. BCI is a Kansas licensed engineering firm located in Sabetha, Kansas, the Kansas City metro area and Memphis, Tennessee. For more information, visit BCI's website, LinkedIn, Facebook, and YouTube.
---