Should You Switch to Virtual Machines?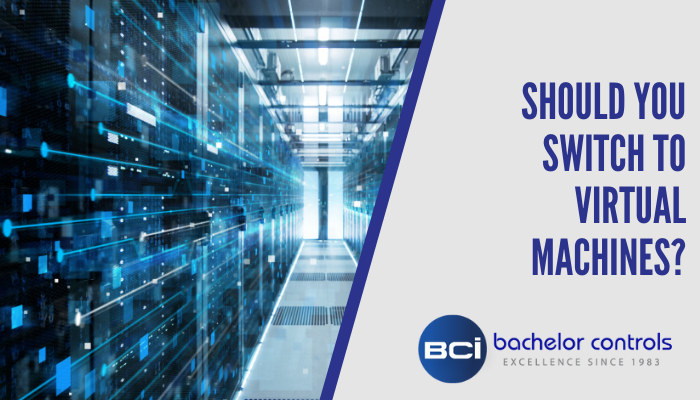 Bachelor Controls often uses virtual machines for any customer that is running a distributed HMI system with multiple client machines. While there are several providers of virtual machines, we often work with VMWare. Once you understand the basics of virtual machines, they can be easy to work with and a viable alternative to using standard computers for your system.
WHAT ARE VIRTUAL MACHINES
Virtual machines, or VMs, are computer operating systems that are not tied to physical hardware. In other words, a computer that can live inside of another computer or can be housed on a centralized server. The virtual machine is its own separate entity, with its own operating system, memory files, and disk space. This gives you the ability to run multiple VMs from the same physical server, as long as the server running the VMs has the resources available to allocate
From a user perspective, often the biggest difference noticed between a virtual machine and a standard physical computer is how to power the virtual machine off and on.
HOW WE USE VIRTUAL MACHINES
Our standard setup
Let's begin with the virtual machines themselves. At the project kickoff, we have discussions with the customer to decide who will be responsible for creating the base images of the VMs. Depending on the customer, they may or may not have technical staff that are comfortable doing this. If that is the case, we have several certified staff members that are ready to complete this setup. Regardless, once those VMs are created, we install all the applicable software on each. Once configuration is complete and tested, those virtual machines are then stored on a server(s) at your facility. We then install thin clients to run the virtual machines on the plant floor.
Once the thin clients are powered on, we configure a remote desktop session to log into a specified virtual machine. When that connection is successfully made, the monitor connected to the thin client will look just like a standard computer.
We recommend redundant servers
Redundant servers are a great way to combat downtime due to hardware failure. During setup and installation of these servers, we recommend load sharing between the two servers (half of the virtual machines are running on one server and the other half running on the second server). Backup and recovery software is then utilized to take daily backups (or snapshots) of the virtual machines. These backups are then stored on the opposite server. This way, if one server goes down, all of the virtual machines are backed up onto a single server and can be powered on and running in a timely manner.
We help you understand the basics
We want to ensure that you are successful and have the knowledge to run your equipment. If you are just starting out, we will provide you with documentation with step-by-step instructions to operate and troubleshoot the basics of virtual machines.
WHY WE LIKE USING VIRTUAL MACHINES
Quicker turnaround time after a hardware failure with redundant servers
If you lose a standard computer on the plant floor and don't have another sitting in storage, it can take days, or even weeks to get the hardware replaced and your system back up and running. By running virtual machines on redundant servers, that downtime can be decreased from days to hours, or even minutes.
There is no need to immediately chase down physical hardware, as we spec servers to be able to run an entire system (all of the virtual machines) on their own. If one server goes down, just simply power on its virtual machine backups stored on the other server.
You are not restricted to the limits of physical hardware
With a standard computer, your disk space and memory directly correlate with the physical hardware installed. With a virtual machine, those limitations are based on the size of the server that the virtual machine lives on.
If you run out of resources on your virtual machine and as long as there are additional resources available on the server, there will be no need to purchase or install additional hardware. For example, to allocate more memory to a virtual machine, you will simply need to: power it off, edit the settings of the VM to add more memory, and then power it back on.
You can make templates
If your project requires multiple virtual machines, we can easily create a standard template for your facility with all of the basic requirements. Once the template is made, we will simply clone that template for each of the virtual machines that need to be used.
You can pick the operating system
Virtual machines do not have the same limitations as standard computers in terms of operating systems. As long as we are able to get the product key, we can still create new virtual machines today with outdated systems like Windows 7 to hold you over until a system-wide software update.
You can control all of your virtual machines using a single manager
In order to streamline the process for our customers, we like to use a virtual machine manager. From the manager, you can power the virtual machines on/off, control the allocation of resources, configure virtual machine settings, and much more.
Contact us today to help you with your virtual machines or to help size your server to ensure that all of your needs are met.
---