BCI CORE™ Receives Customer Accolades from Manufacturers for Simplifying Complex Batching Workflow Management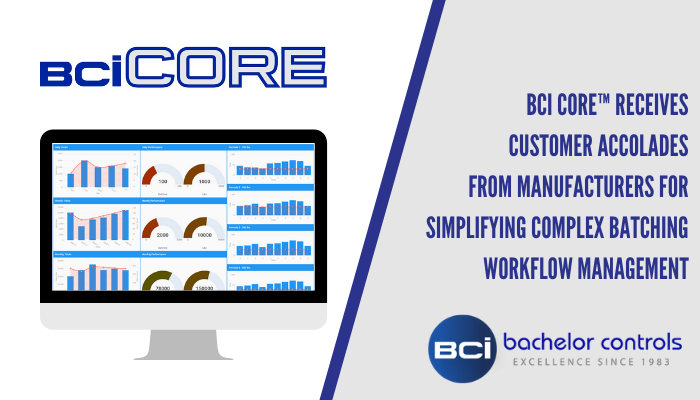 Bachelor Controls BCI CORE™ Batching Suite software receives high acclaim from recent chemical and food & beverage client interviews conducted by an independent third party. The Batch Operations Management MES software suite offers a high level of agility for batch users, easily integrating with both ERP business systems and OT/PLC control systems, filling the gap between the two.
Sabetha, KS – February 24, 2021 – Bachelor Controls, Inc. (BCI), a leading provider of control systems integration solutions specializing in complex batch solutions, today announced its BCI CORE™ Batch Suite operations management MES software has received high accolades from client interviews. Interviews were conducted by an independent third party in the fourth quarter of 2020 through January 2021 and included plant and engineering managers in the chemical and food and beverage industries as well as industry leading production process equipment supplier, AZO, Inc.
"Our customers buy a turnkey solution from AZO, and Bachelor Controls is our trusted partner working hand-in-hand with us to design the controls and automation piece of our process systems," said Sales Manager Bill Nesti, AZO VITAL North America. "Long after the sale, we continue to support our customers including offering controls system upgrades to previously installed systems. This has included upgrading the batching software to BCI CORE™ which has been extremely successful in helping our customers take their production to the next level, making day-to-day production management more streamlined and efficient."
Michael Bachelor, President of Bachelor Controls commented, "At BCI, we are deeply committed to continuous improvement, and to that end, we have hired an independent agency to conduct numerous customer interviews to learn what we do well and what areas we can improve to better serve our customers. We were pleased to discover that we have a solid base of satisfied customers who are saving time and money with our BCI CORE product."
BCI CORE™ was developed to address the need in the market for a better batch process workflow management system. Its enterprise-wide ability to continually monitor, control and streamline operations increases efficiency, product quality and throughput. Bachelor Controls works directly with end users and partners with machine builders to deliver complex ISA-88 batch recipe-compatible batching systems ready to integrate with both ERP business systems and OT/PLC control systems.
"When it comes to our daily production workflow management, BCI CORE gives us the ability to save different sets of formula parameters allowing for a faster ramp-up time to full production with full confidence we are running at optimal setpoints with no variation between shifts. The ability to pre-build the next campaign on a separate screen while production is in process saves time and prevents accidents such as initiating a release of the next campaign too soon," explained a Plant Engineering Manager interviewee at a large ingredient blending facility.
BCI CORE™ is a prebuilt software; the major building blocks have already been written and quality tested, saving batch users major time and development cost. Features include out-of-the-box dashboards for visibility, campaign production scheduling, drag-and-drop formula interface for ingredients and setting-related parameters (mix times, speeds, etc.), and the ability to secure the system by assigning roles to individuals or to groups. Installation can include customizations such as client-specified monitoring, alarming, reports and more.
For more information or a demonstration, contact Bachelor Controls.
About Bachelor Controls
Bachelor Controls (BCI) is a leading provider of control systems integration solutions, and is a premier batch solutions integrator. The company also has extensive experience in process solutions including cooking extrusion for food and pet food, distillation, modified starches, and more. Founded in 1983, Bachelor Controls has been recognized as a Charter CSIA Certified Member, Charter Rockwell Automation Solution Partner, and Microsoft Certified Partner. BCI is a Kansas licensed engineering firm located in Sabetha, Kansas, the Kansas City metro area and Memphis, Tennessee.
---